Details
Excellent cosmetic sealant; will not degrade when exposed to UV
Low VOC, 50-minute skin time, paintable when wet
Cures without isocyanates
Above and below the water line applications
15-20 minute skin time helps keep jobs moving quickly
Ideal for port hole and general cosmetic seam sealing
Paintable immediately after application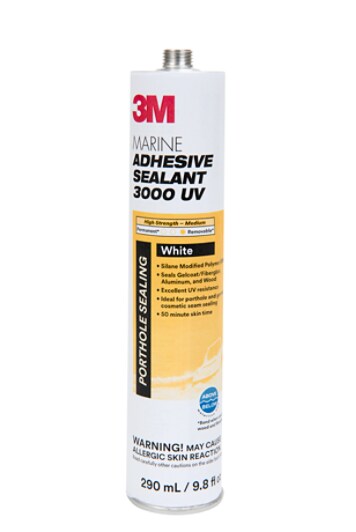 Available in Black or White
Ideal for Marine Applications Above and Below the Waterline
3M™ Marine Adhesive Sealant 3000 UV is a one-part adhesive sealant formulated to provide a flexible bond to combat vibrations, swelling, shrinking or shock common on boats or other marine applications. It is well-suited for many marine applications both above and below the waterline (PDF, 6.73 Mb). Additionally, its good UV resistance provides reliable long-term performance. Available in cartridge, sausage pack and drum volumes to meet your application needs.
Recommended Applications
Lap seams on trucks, trains, trailers
Construction panels
Thru-hull fittings and deck hardware
Port hole frames
Designed to Endure Marine Environments
3M™ Marine Adhesive Sealant 3000 UV (PDF, 84.12 Kb) is part of our broad range of adhesive sealants uniquely formulated for the marine market. Designed for reliable performance, 3M Marine Adhesive Sealant 3000 UV provides the flexibility and durability that can meet the demands of many tough applications.
Understanding Silane Modified Polymer (SMP) Sealants
Silane Modified Polymer sealants provide strong, flexible durable elastomeric bonds that seal against the elements. These sealants offer excellent UV resistance and excel in challenging industrial, transportation and construction applications. SMP sealants are available in a wide variety of Shore A hardness, open time and colors to meet many application needs. Choose a 3M Manual or Pneumatic Applicator for dispensing 3M adhesives sealant cartridges and 400ml/600ml sausage packs.
Bringing Better Ideas to the Surface through Science and Innovation
In our 3M Industrial Adhesives and Tapes Division, we apply the science of adhesion to deliver innovative solutions that improve the design and manufacturing processes of companies around the world. In the end, our technologies help customers like you deliver competitive products to the market faster and more efficiently.